Flint Fireforge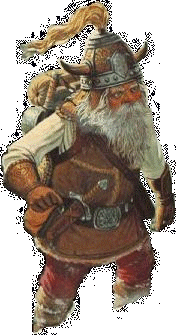 Name: Flint Fireforge
Race: Dwarf
Sex: Male
Height: 4'7"
Weight: 148 lbs
Hair: Gray
Eyes: Hazel
Birthday: The Eleventh of Aelmont, 203 A.C.
Personality: Flint loves, and cares for all of the companions. He feels he is like a father to them, and that without him, they would get into no end of trouble. He does, however, have somewhat of a short temper (especially with Tasslehoff), and tends to find himself reluctantly going where the companions lead. Flint is also the oldest of the companions.
During the War of the Lance: During the War of the Lance, Flint pretty much went wherever the group lead him. Eventually, during the first winter in the War of the Lance, his health started to break down, due to his rheumatism. Even through this, Flint never once mentioned this fact to anyone, not even Tanis, but rather he pushed along with the rest of the group.
After the War of the Lance: After the war had passed, Flint had already, for some time, been sitting on a tree next to Reorx's forge, whittling a block of wood, and waiting for "that rattle-brained kender", Tasslehoff, to join him.
Died: Flint died in the third Chronicles book, Dragons of Spring Dawning, of rheumatism.
Go back to The Pig and Whistle Inn
Did you see an error? Perhaps you have a suggestion? What? You found a typo? Or perhaps you just have a question, comment, thought, idea, or feeling about my page? Feel free to share! I love receiving e-mail, and I try to respond to every letter I get. So go ahead, e-mail me! Thanks for looking at this web page, and I hope you enjoy!



I would love it if you could include a link to this page on your own home page. I have made a banner for my page to use with a link if you'd like. Thanks again for visiting my page!
All images (with the exception of the animated images), characters (and their distinct likeness), DragonLance™, and the DragonLance™ logo are registered trademarks of TSR Inc. Reference to any and all DragonLance™ related material is strictly for the intent of discussion, and is protected by law, under the first amendment of the United States Constitution. The use of anything related to DragonLance™ on this, or any other pages affiliated with this page are not meant to be an infringement on TSR Inc's rights to DragonLance™. The Pig and Whistle Inn is provided as a DragonLance™ fan website and is for the promotional, non-profit purposes to promote the ideals and fundamentals of DragonLance™.